Workflow count
The Workflow count widgetComponent of the Nintex Analytics Dashboard interface, which displays information for specified data on your Nintex plaform. displays the count of all workflows across your Nintex platform by environment location such as a SharePoint Online site collection or a Nintex Workflow Cloud tenant.
Access the Workflow count widget
The Workflow count widget is displayed in the Dashboard page.
To view the Dashboard, on the top-right, click

Analytics

.
Export the Workflow count widget data as a CSV file
You can export the data shown in widgets as a CSV file.
Click in top-right corner of the widget.
Click Export CSV.
Interpret Workflow count data
Let's understand the data that Workflow count widget displays and how you can use it.
The Workflow count widget displays workflow locations and the respective workflow count for the configured data connection Method of connecting with Nintex platform capabilities e.g. a Nintex Workflow Cloud tenant that Nintex Analytics displays data for in your dashboard. types.
Note: This widget displays data only for the data connections that are in Activated status. For more information, see Data connections.
For example, an IT administrator can use the workflow count widget to perform workflow usage comparison among departments such as /HR or /marketing. In this case, the IT administrator can identify the department containing lower number of workflows, e.g., /marketing and recommend to automate more processes. Subsequently, the IT administrator can access the relevant department status and contact information via the Workflows page.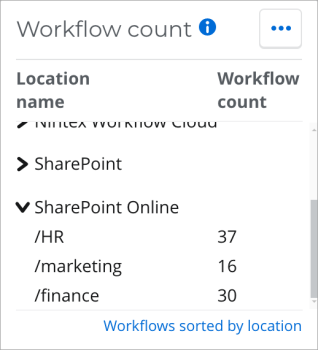 Workflow count selections
Selection (or column or link)
Description
Location name

Displays the data connection type drop-down and the relevant workflow locations.

For example, for Nintex Workflow Cloud data connection type, the Location name column lists the tenant names.

For more information, see Data connections.

Workflow count

Displays the number of workflows available in a specific location.

Workflows sorted by location

Clicking on the link displays the Analytics > Workflows page, listing workflows that are sorted based on the location.