Task Pane
Use the Task Pane to create and manage actions within a specific task.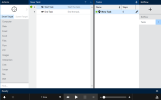 Note: Drag and drop a Nintex Bot Botflow (*.rpa) file into the Task Pane to quickly open the file.
Task Pane Field and Tool Descriptions
The Task Pane field and tool descriptions are listed here.
Task Pane Field and Tools
Descriptions
Selector

Used to choose a target and create actions that:

Click a button on an application
Send information to a web or Windows application
Copy information from a web or Windows application

Smart Target and Screen Target options

The Selector can be used with the Smart Target or Screen Target options. The options are displayed as shown in the image below. Smart Target is selected by default.

Smart Target: Smart Target sets the target based on the selected element and is used to reliably and most accurately locate and interact with the element.

Screen Target: Screen Target sets the target based on a specific fixed X/Y coordinate on the entire screen. Use this as a potential alternative to target an element when the application's element can't be targeted with a Smart Target due to application limitations. For example, target a cell within a table that can not be selected with Smart Target or use it to target an image in a screen by getting the X/Y position of the image as a variable to click on.

Actions List

Create actions that do not require a target by selecting an action from the list below the Selector.

These types of actions are used to:

Manipulate data
Provide feedback to the end user
Manipulate files and folders
Control the flow and timing of the script
Generate database or log files

Task Editor
Once an Action is created, it becomes available in the Task Editor.
Action

Create actions by dragging and dropping the Selector onto the desired target and choosing the appropriate action.

Actions are numbered when created.

Edit/Delete
Selected Actions can be modified or deleted by clicking

Edit

or

Delete

. Additional options are available when right clicking an Action.
Move
Actions may be rearranged by using the

Move

arrows along the top of the Task Pane.  
Run Arrow

Always points to the Action that is about to be executed and can be moved by clicking and dragging it to the desired Action.